Our Work – a sample of what we do…
Our work is to help our clients grow.
Whether it is a new online store or a brochure website or a social media campaign, whatever the project, our aim is to move our client's business to the next level.  We have been fortunate to work on great projects with wonderful clients, who have retained our website management services and  our other services such as social media management, email marketing etc. 
Below is a small sample of the work we have done. 
If you have a website or digital marketing project that you want to action, call or email us and we will be happy to discuss your needs and advise you on the best course of action. 
We welcome the opportunity to work with you, so we can be part of your success story. 
A Garden Centre – Online Store launched…
Scenario:
Our client – Clarenbridge Garden Centre had a well established physical garden centre. They wanted to grow their business and believed that the online market was the best option. However, selling and marketing their products online, could be a challenge due to the delicate nature of their product category. 
Strategy: 
Our initial meeting with David from Clarenbridge Garden Centre involved scoping the project,  initial timings and budget were agreed. Next, layout and format were discussed as well as product categories and the number of products. 
To allievate any potential reluctance by customers of buying plants online we:
Selected popular products with descriptions and level of care needed
Highlighted that the company was in business for over 10 years
Focused attention on the exemplary customer service available
Promoted the different contact methods e.g. webchat, phone, email, messenger 
The CGC online store was a great successs and we were retained to manage the website and the digital marketing activities for the company, which included online marketing and email marketing. 
A Garden Centre – Online Store grows…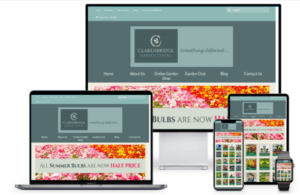 Scenario:
In a few short years, we were asked to review and update the online store for Clarenbridge Garden Centre. The original store was a great success, but with a new branding scheme, the online store needed to reflect the fresh new look. 
Strategy: 
The new branding was a good opportunity to review what was and was not working online.  We worked closely with David from CGC to ensure his vision of "something different" was visible online as well as within the physical stores. The "something different" set CGC apart from other garden centres and this needed to be experienced with product range and level of customer care, both online and instore.  There was a strong drive  to ensure that "so different" was more than just a tagline. 
We achieved this by focusing on the following:
"Something Special" was added to the branding and to selected product categories and products.
New product categories were introduced to ensure new content was being added regularly.
Garden Blog posts were published on tips and advice on gardening and on unusual plants. 
Garden Club was promoted with monthly draws. 
Members of the Garden Club received regular emails with exclusive offers.
Launched Customer Appreciation Days online to match our Appreciation Days instore. 
An Accountant – a Website begins…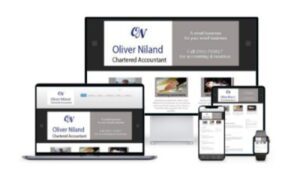 Scenario:
Oliver Niland a Chartered Accountant retained our services to develop a website for his business. Oliver was keen to have a website, to use it as a vehicle to  communicate the services he offered to small business owners. 
Strategy:
We discussed the main objectives of the website with Oliver and which areas he wanted featured. The main objective was to highlight the services he offers with particular focus on three main areas: Tax Returns, Accounting Advice and New Start up Businesses. 
In addition, Oliver was very keen to share updates on tax changes and accounting practices. He required a blog option that was simple to use to enable him to upload his weekly posts. We kept these factors in mind during the design and layout process.  Regular updates were sent to Oliver on the project. When finalised, we presented the website to Oliver.  Minor changes were made and shortly after the website was launched. Oliver was happy with the result and found that publishing blog posts helped him stay in touch with his clients. 
An Accountant – a Website evolves…
Scenario:
Our initial website that we created for Oliver Niland a Chartered Accountant was very effective. However, after four years, Oliver's business had grown and he believed that his website needed a new look.  As a result, he contacted us and asked us to create a new website with a new logo.
Strategy: 
By this stage, Oliver was regularly uploading business blog posts to his site. This proved very successful and helped his online presence in terms of being found online in terms of search results. In addition, he became an authority on all things tax related.  Therefore, this needed to remain a central focus. 
New logo was created with a gold line to emphasis quality, success & achievement
Gold was added to the home page to focus on key features e.g. consultation & phone no.
The key three areas of business: Tax, Small Businesses and Accountanting were given higher priority with more focus on these areas with new images and new graphics to reflect a professional business image. 
The new website added a new professional feel to the business and highlighted the key areas of Oliver's business. 
A Business Group –  Social Media Campaign helps gain new members…
Scenario:
Network Galway wanted to increase their membership numbers and believed the best way was through social media. Historically, the key time to recruit new members was at the Open Evening held in January each year, when people are motivated to join new groups. We targeted this event specifically to recruit  new member for Network Galway.
Strategy:
We adopted a multi-prong approach.
In the past, the primary marketing communication method used by the group was email marketing. However for the new membership meeting, we knew we needed to support the email efforts with a major focus on social media in order "to get our message across."
Our two objectives were firstly to ensure existing members renewed their membership  and secondly encourage potential members to join.  Our social media blitz campaign primarily focused on LinkedIn,  Facebook and Twitter.
The main activities involved:
Creating a series of posts for Facebook & Twitter to promote the event and developing specific graphics to highlight the event.
Organising Facebook advertising for the event, resulting in a paid reach of 4,000+  and 1,000 unpaid reach.
Replying to queries and messages from members and potential members about the event and encouraging members to attend the event.
Creating a LinkedIn profile for Network Galway achieving over 200 connections in less than a month.
Recording videos of the Open Evening event,  videoing key speakers and members. One video resulted in a reach of 3,500 and an engagement level of over 400.
We spoke to several attendees and we asked them how they heard about the event. Many said they received the email notifying them about the event, but admitted that the Facebook & Twitter posts were a good reminder and encouraged them to attend. This showed us that our multiple media approach proved successful.
Final Result: the event attracted double the amount of attendees than in previous years. 
If you have an online store or website or digital marketing requirement, call us today on (085) 168 0254 or email pmrwebmarketing@gmail.com